The Aristocrats' "Tres Caballeros" Is Out NOW!
Tuesday, June 23rd, 2015
Dear kind readers of this here website:
The day has finally arrived: The Aristocrats' third studio album, Tres Caballeros, has been released into the wild – and thus concludes my epic and endless promo-whoring of this here album, of which I'm genuinely very proud: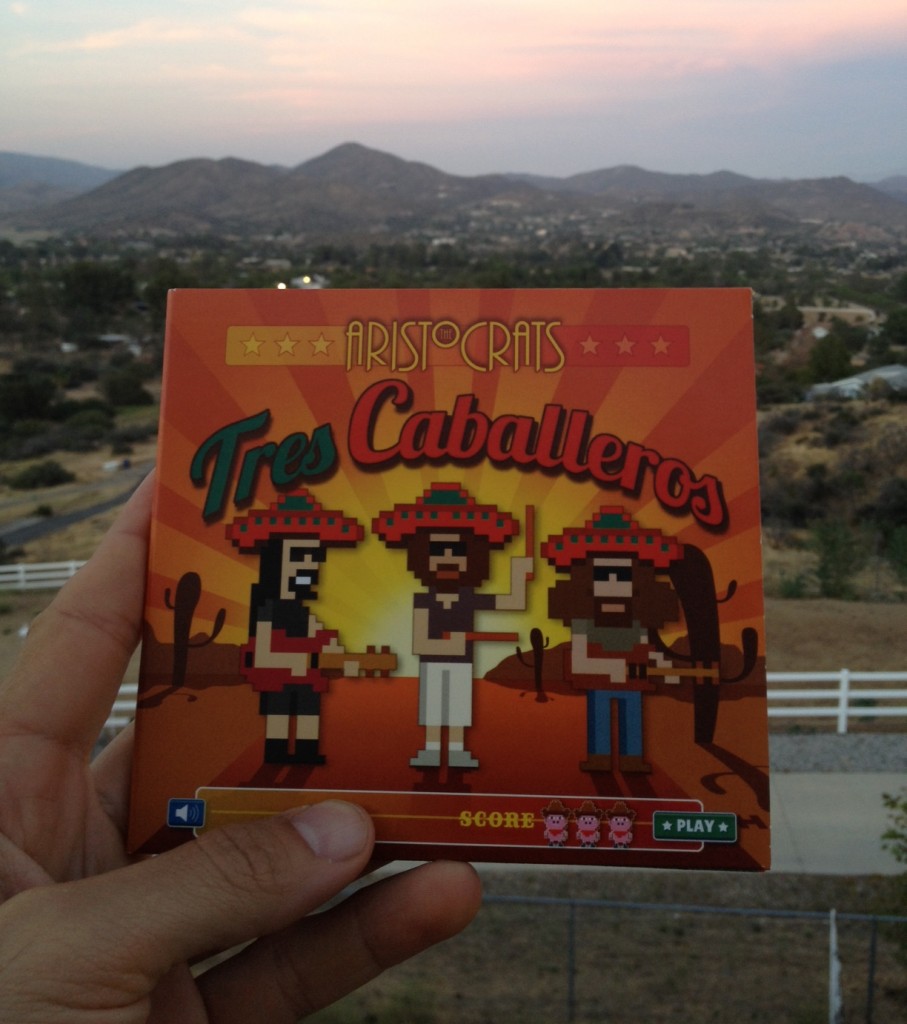 It's now available for immediate digital download and international order shipping through our webstore. And yes, it's also available on iTunes, Amazon, various e-tailers, and select physical stores worldwide.
For those who pre-ordered through our band's webstore, digital downloads (accessible through a link in your order receipt e-mail) will now be activated, and shipments are all either on the way or have already arrived. International shipments take a bit longer sometimes, but the digital download should keep our global fans busy for a while.
Late to the party? Try going here and watching the top three videos on the page for some tasty previews of Tres Caballeros.
Reviews are starting to come in. Here's an excerpt from a very kind one:
"Tres Caballeros is extraordinary. In fact, almost every single note is extraordinary. Individually these guys are astonishing…together, this is the stuff of dreams."
–The Progressive Aspect
We're blushing.
In all seriousness, THANK YOU for your support and interest in us as we made this record. I know Marco and Guthrie are grateful for the support of everyone on this list – but not as much as I am. Even though this is a band record, it's still extremely personal to me, and I can't thank you enough for following along as this journey made its way from demos to live residency to studio sessions and then, finally, to this very day.
And now, it's time to take the show on the road. Below you'll see The Aristocrats' North America and Europe tour dates (more dates will be announced for Europe soon). I know I speak for Marco and Guthrie when I say that we can't wait to play this music for you. See you out there!
Cheers to all,
BB
THE ARISTOCRATS
TRES CABALLEROS
NORTH AMERICA TOUR SUMMER 2015
(click here for links and available details on all dates)
Mon 6-Jul Sacramento, CA Harlow's
Tues 7-Jul San Francisco, CA Slim's
Wed 8-Jul Santa Cruz, CA Don Quixote's
Fri 10-Jul Portland, OR Star Theater
Sat 11-Jul Seattle, WA Studio Seven
Sun 12-Jul Vancouver, BC, CANADA Rickshaw Theatre
Tues 14-Jul Boise, ID Reef
Wed 15-Jul Salt Lake City, UT Club X
Fri 17-Jul Denver, CO Quixote's True Blue
Sun 19-Jul Omaha, NE Slowdown
Mon 20-Jul Des Moines, IA The Gaslamp
Tues 21-Jul St. Paul, MN The Amsterdam Bar And Hall
Fri 24-Jul Chicago, IL Reggie's
Sat 25-Jul Indianapolis, IN Birdy's
Sun 26-Jul Cincinnati, OH The Mad Frog
Tues 28-Jul Cleveland, OH Beachland Ballroom
Wed 29-Jul Pittsburgh, PA Hard Rock Café
Thur 30-Jul Columbus, OH Skully's
Fri 31-Jul Detroit, MI Token Lounge
Sat 1-Aug Toronto, ON, CANADA Mod Club
Sun 2-Aug Ottawa, ON, CANADA The Rainbow Bistro
Tues 4-Aug Montreal, QC, CANADA Cafe Campus
Wed 5-Aug Woodstock, NY Bearsville Theater
Fri 7-Aug Boston, MA The Middle East
Sat 8-Aug New York City, NY Irving Plaza
Sun 9-Aug Philadelphia, PA North Star Bar
Mon 10-Aug Washington, DC Jammin' Java
Tues 11-Aug Raleigh, NC Pour House
Thur 13-Aug Charlotte, NC Tremont Music Hall
Fri 14-Aug Atlanta, GA Aisle 5
Sat 15-Aug Nashville, TN The High Watt
Sun 16-Aug St. Louis, MO Old Rock House
Mon 17-Aug Kansas City, MO The Scene
Tues 18-Aug Tulsa, OK The Vanguard
Thur 20-Aug Houston, TX Fitzgerald's
Fri 21-Aug Austin, TX The Roost
Sat 22-Aug Dallas/Ft. Worth, TX The Sanctuary
Mon 24-Aug Albuquerque, NM Launchpad
Wed 26-Aug Phoenix, AZ Club Red
Thur 27-Aug Mexicali, MX Teatro De Estado
Fri 28-Aug San Diego, CA Price Center Ballroom East, UCSD
Sat 29-Aug Riverside, CA Romano's Concert Lounge
Sun 30-Aug Los Angeles, CA King King
THE ARISTOCRATS
TRES CABALLEROS
EUROPE TOUR WINTER 2015/2016
(many more dates to be announced for early 2016!)
(click here for links and available details on all dates)
November 16th: Cologne (Germany) – Kantine
November 17th: Dortmund (Germany) – Piano
November 18th: Frankfurt (Germany) – Zoom
November 20th: Nurnberg (Germany) – Luise Cultfactory
November 21st: Stuttgart (Germany) – Venue TBA
November 22nd: Reichenbach (Germany) – Bergkeller
November 24th: Munich (Germany) – Strom
November 25th: Bratislava (Slovakia) – Majestic Musik Club
November 26th: Nove Mesto (Slovakia) – Blue Note
November 27th: Bochnia (Poland) – Oratorium Sw. Kingi
November 28th: Warszaw (Poland) – Venue TBA
November 30th: Berlin (Germany) – Kesselhaus
December 2nd: Hamburg (Germany) – Fabrik
December 4th: Larvik (Norway) – Bolgen
December 6th: Istanbul (Turkey) – Venue TBA
December 7th: Bucharest (Romania) – Silver Church
December 9th: Zoetermeer (Netherlands) – De Boerderij
December 10th: Verviers (Belgium) – Spirit of 66
December 13th: Edinburgh (Scotland) – Liquid Room
December 15th: Manchester (England) – Club Academy
December 16th: Birmingham (England) – Temple
December 17th: Bristol (England) – Bierkeller
December 18th: London (England) – Heaven
December 19th: Brighton (England) – The Haunt
December 20th: Paris (France) – La Maroquinerie
January 20th 2016: Sevilla (Spain) – Custom
January 21st 2016: Murcia (Spain) – Garaje
January 22nd 2016: Madrid (Spain) – Caracol
January 23rd 2016: Valencia (Spain) – Rockcity
January 24th 2016: Barcelona (Spain) – venue tba
January 26th 2016: Nice (France) – venue tba