"Tres Caballeros" Cover Art & Track Listing Revealed – Plus Updated North American Tour Dates!
Wednesday, April 22nd, 2015
Hey everyone-
I've been admittedly quiet lately because, since mid-February, I've been working nonstop on the new Aristocrats' album Tres Caballeros…which is now finally done! Hallelujah!
This also means I'm fairly spent, so I'm going to be lazy (I know, so lazy, that's me) and just use The Aristocrats' e-mail voice as the official BellerBytes update for now. I hope you'll forgive me. I'll be back to myself soon, after a few days off in the mountains.
So, here's some shameless promo text about our new album, of which I'm very, very proud, plus a bunch of summer tour dates. Maybe I'll see you at one of them?…BB
****************
Well, look at what we have here: It's the artwork for our third studio album Tres Caballeros: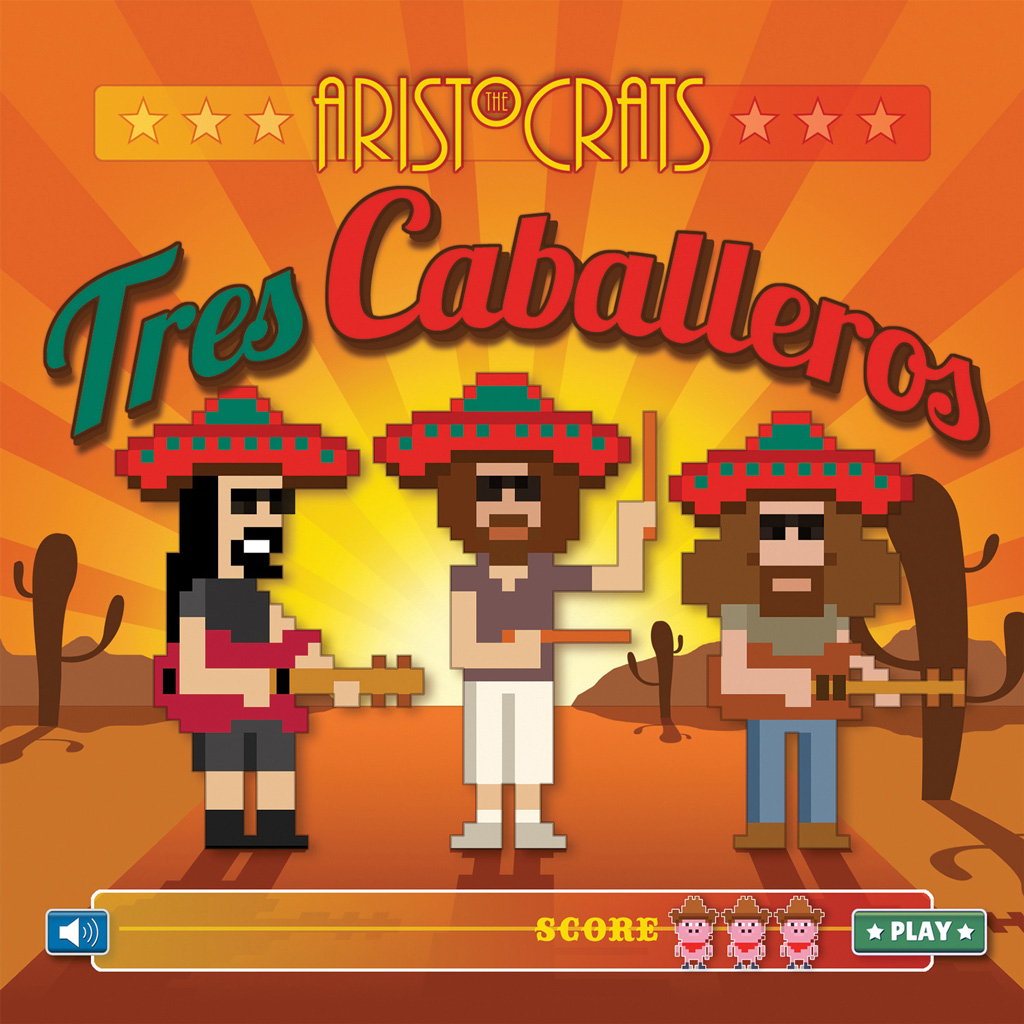 The album is off getting manufactured right now! It's due for an early summer release (exact date TBA). The album will be released in a Standard Edition (CD) and Deluxe Edition (CD/DVD), which will include a 30-minute documentary featuring live and in-studio footage, outtakes, demos, and more.
The "8-bit" artwork represents a new spin on our tradition of animated covers, and was created by Tom Colbie, who designed the cover art for the band's previous two releases, Culture Clash and Culture Clash Live.
Tres Caballeros was tracked over ten days in February at world-famous Sunset Sound studios, where Van Halen (1), Led Zeppelin IV, and Rage Against The Machine's The Battle Of Los Angeles were tracked, among hundreds of others. The result: Nine new compositions of greater sonic depth and breadth than ever before, with unique textures and lush layering augmenting the usual trio firepower.
We can also now reveal that the track listing for Tres Caballeros is as follows:
Stupid 7
Jack's Back
Texas Crazypants
ZZ Top
Pig's Day Off
Smuggler's Corridor
Pressure Relief
The Kentucky Meat Shower
Through The Flower
And now, for the up-to-the-minute tour dates (several updates since the last listing)
THE ARISTOCRATS
Tres Caballeros North America Tour – Summer 2015
with special guests The Travis Larson Band
Date                   City/State                       Venue
Mon 6-Jul            Sacramento, CA               Harlow's
Tues 7-Jul            San Francisco, CA            Slim's
Wed 8-Jul            Santa Cruz, CA                 Don Quixote's
Fri 10-Jul             Portland, OR                     Star Theater
Sat 11-Jul             Seattle, WA                        Studio Seven
Sun 12-Jul           Vancouver, BC, CANADA     Rickshaw Theatre
Tues 14-Jul          Boise, ID                            Reef
Wed 15-Jul           Salt Lake City, UT           Club X
Fri 17-Jul              Denver, CO                       Quixote's True Blue
Sat 19-Jul             Omaha, NE                        Slowdown
Mon 20-Jul          Des Moines, IA                 The Gaslamp
Tues 21-Jul           St. Paul, MN                     The Amsterdam Bar And Hall
Fri 24-Jul              Chicago, IL                       Reggie's
Sat 25-Jul              Indianapolis, IN              Birdy's
Sun 26-Jul            Cincinnati, OH                 The Mad Frog
Tues 28-Jul          Cleveland, OH                  Beachland Ballroom
Wed 29-Jul           Pittsburgh, PA                 Hard Rock Café
Thur 30-Jul          Columbus, OH                 Skully's
Fri 31-Jul               Detroit, MI                        Token Lounge
Sat 1-Aug               Toronto, ON, CANADA   Mod Club
Sun 2-Aug             Ottawa, ON, CANADA     The Rainbow Bistro
Tues 4-Aug            Montreal, QC, CANADA  Café Campus
Wed 5-Aug            Woodstock, NY                  Bearsville Theater
Fri 7-Aug               Boston, MA                        The Middle East
Sat 8-Aug              New York City, NY            Irving Plaza
Sun 9-Aug             Philadelphia, PA               North Star Bar
Mon 10-Aug          Washington, DC               Jammin' Java
Tues 11-Aug           Raleigh, NC                       Pour House
Thur 13-Aug          Charlotte, NC                    Tremont Music Hall
Fri 14-Aug              Atlanta, GA                       Aisle 5
Sat 15-Aug              Nashville, TN                   The High Watt
Sun 16-Aug             St. Louis, MO                  Old Rock House
Mon 17-Aug            Kansas City, MO            The Scene
Tues 18-Aug            Tulsa, OK                        The Vanguard
Thur 20-Aug           Houston, TX                   Fitzgerald's
Fri 21-Aug                Austin, TX                       The Roost
Sat 22-Aug               Dallas/Ft. Worth, TX    The Sanctuary
Mon 24-Aug            Albuquerque, NM          Launchpad
Wed 26-Aug            Phoenix, AZ                     Club Red
Thur 27-Aug            Mexicali, MEXICO        Teatro De Estado
Fri 28-Aug                San Diego, CA                Price Center Ballroom East, UCSD
Sat 29-Aug               Riverside, CA                  Romano's Concert Lounge
Sun 30-Aug              Los Angeles, CA             King King
As always, you can go to the Aristocrats' website TOURS page and find complete ticket links for each show.
We'll have more news in a couple of weeks: Preview videos and audio, the official release date, and more.
-The Aristocrats